(The Flight from Hírilorn)
Falešné společenstvo Composed 2015 Recorded 2016
Foto: Michal Kára
Lúthien, trapped in the crown of a tall tree, weeps over her helplessness and desire to help Beren in the dangerous task he has set himself. However, the rain soon washes away the girl's tears and helps her to turn grief into strong will and courage.

One evening like this, a downpour came, pounding on the concrete of the streets and luring Fallon, huddled in a blanket, to the balcony. Fortunately, she came with a piece of paper and a pen, so shortly she began compose this song.
Fallon

The silmaril in exchange of my hand,
Beren promised to procure,
whatever the price of the task,
even by his own death he would pay.
Beren and Lúthien Song Cycle

(contains 24 songs, of which 20 on CD Beren and Lúthien, 2 only here on the website Songs of Middle-earth, 2 not yet recorded)
---
---
Author of song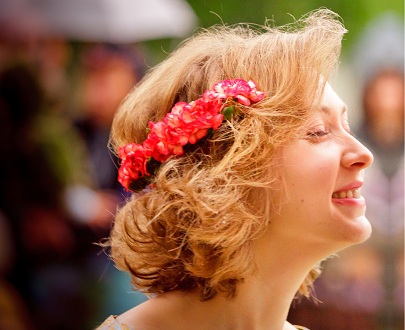 Fallon Elenwen
Interprets
Music and lyrics: Blanka Janovská
Recorded in JM Studio (www.hudebnistudio.cz) in October and November 2016
Song cycle: Beren and Lúthien
 
steel-string guitar: Vojtěch Domin
electric guitar: Vojtěch Domin
solo voice Lúthien: Blanka Janovská
choir: Eliška Nejedlá, Daniela Binderová
tambourine: Eliška Nejedlá
maracas: Michal Kára
 
guitar arrangement: Vojtěch Domin
mix and mastering: Vlastimil Červenka