(Finrod's Death)
Falešné společenstvo Composed 2014 Recorded 2016
foto: Silnar
On his quest for gaining Silmaril Beren asked for help Finrod Felagund, whomst life was saved by Beren's father Barahir many years ago. After their capture (as told in the song "Interrogation by Sauron") Sauron challenged Finrod to a combat, that is described in the song "The Duel of Sauron and Finrod Felagund". Finrod lost the duel and was cast into a dungeon along with Beren and their companions.
Although Sauron won he didn't manage to find out who Finrod is or where was their company headed. To intimidate them Sauron sent to the prison his werewolf every day to tear one of Finrod's companions. In the end there were only Finrod and Beren left.
When the wolf came for Beren, Finrod tore the shackles apart with the strength of his own hands and bested the werewolf, but he himself was mortally wounded and after saying goodbye to Beren he died.
The song was created in August 2014 and was performed as a part of the "Beren and Lúthien" performance at Tolkiencon 2016. It belongs to a group of interconnected songs along with "Interrogation by Sauron", "The Duel of Sauron and Finrod Felagund" and "Valacirca".
Daniela (translation: Aredhel)
Who would have expected
in the sake of our world,
that an elf would gave his life
for the life of a mere man.
Beren and Lúthien Song Cycle

(contains 24 songs, of which 20 on CD Beren and Lúthien, 2 only here on the website Songs of Middle-earth, 2 not yet recorded)
---
---
Author of song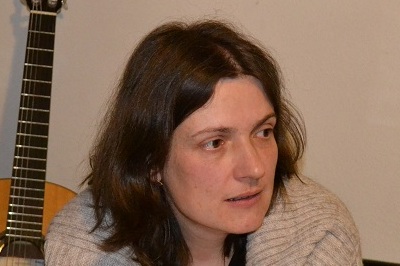 Daniela Binderová
Interprets
Music and lyrics: Daniela Binderová
Recorded in JM Studio (www.hudebnistudio.cz) in May and June 2016
Song cycle: Beren and Lúthien
 
classical guitar (2×): Vojtěch Domin
violoncello: Alžběta Kadlecová
solo voice Finrod: Vojtěch Domin
solo voice Beren: Petr Bohdan
 
guitar arrangement: Vojtěch Domin
violoncello arrangement: Daniela Binderová
mix and mastering: Vlastimil Červenka