News
24.06.2016
This year's second session at studio has brought us eight new recordings, as well as a new musical community has been born!
In entire history of our project, this has been 10th studio session, making a little anniversary. At studio, Kateřina Schwarzerová, Katka Garcia, Doubravka Burianová, Petr Bohdan, Vojta Bardě Domin, Aho met together with guest musician and sound master Vlastík Červenka. The result is following eight songs mainly from Poetic Fellowship archives (yet some waiting for studio recording for over a 20 years), few are new:
Collaboration on this session has in the end resulted to a creation of a new formal musical grouping named Poetic Musical Fellowship. As the name suggests, it is straight reincarnation of a former Poetic Fellowship, whose musical heritage PMF maintains and develops. However, contrary to PF, PFM is more focused on music (less theatre, more music). Hopes are that time will bring us more of PF songs reborn, as well as some new pieces.
You could listen to new recordings either from above links, from main page or tune Radio Middle-Earth and wait for them to come in playlist.
Together with first session this year (The Flight of the Noldor) we have 13 new songs, let's enjoy listening! :)
AHO / PB
05.05.2016
We have just released a songs from our first recording session of this year, for The Flight of the Noldor cycle by Alex Lewis.
This spring, packed with recording sessions, has brought to us first songs.  We have just finished mastering of the songs from The Flight of the Noldor cycle by Alex Lewis. The songs, for which we have secured author's permission, are uploaded together with Czech translations thanks to Daniela Binderová.
Those who met smiling and kind Alex Lewis at TolkienCon 2013 might have anticipated that his visit and friendship with those around Falešné Společenstvo /False Fellowship/ will come to its fruition by continuous collaboration. And we are glad it did really happen.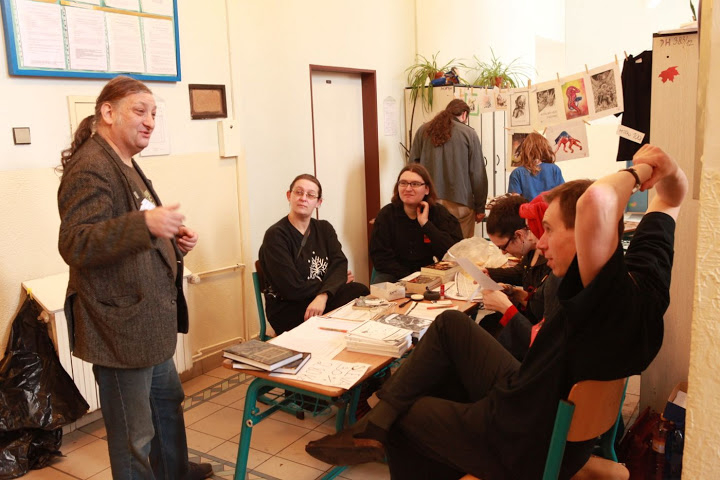 At studio, following individual have met for recording of first five songs: Elsa (Eliška Nejedlá), Bardě (Vojta Domin), Daniela Binderová, harpist Aredhel (Františka Andršová), Lemming (Michal Kára) playing cajón, and as chorus Lokýt (David Beneš), Nerion (Ondřej Janovský) and Sam (Jaroslav Samoel). Under direction by Vlastík Červenka and organized by Elsa, they have worked out following songs:
Zatracený (The Dispossessed)
Přísaha (The Oath)
Fingolfin v Hithlumu (Fingolfin in Hithlum)
Proroctví Severu (The Prophecy of the North)
Ani jednu (None and None)
You can listen to the songs from home page, as they are listed among new songs, or, go to The Flight of The Noldor profile, where everything is together – songs as well as participants.
02.02.2015
New "winter" songs were added to our playlist.
Last autumn it was really full of events and work concerning Middleearth music. False Fellowship worked hard on their new CD Hobbit (introduced later on Tolkiencon 2015) and performance of Voices of Middle-earth took place on November.
Even that many of the protagonists were a quite of busy we managed to organize a "small" recording session during last December at Prague HM studio. And then a couple of new tracks were released:
Moria - one of the oldest songs by Poetic Fellowship and Katerina Schwarzerova
Song of Galadriel - considered traditional song of Poetic Fellowship performed by Katerina Schwarzerova and Katka Garcia
Trpaslík (The Dwarf) - well known funny elvish song by Jitka Zidkova
Zelené kopečky Kraje (Green Hills of Shire) - new instrumental song by the newest member of The Voices of Middle-earth Vojta Domin
Well it is not many but the songs are really beautiful.
Listen and enjoy!
AHO