Echoes from Middle-Earth
14.02.2020
We are glad to announce songs from the new Glindar's album Echoes from Middle-Earth.
At this year's Tolkiencon 2020, we had an opportunity to listen to songs of an Italian musician, composer and tolkienist Glindar. On the Saturday's evening Glindar played a great concert and he was accompanied by Romanian illustrator Bogdan Graciun and his live painting during the performance.
The songs came from the album Echoes from Middle-Earth released at the end of 2019 containing 11 songs inspired by the Lord of the Rings trilogy. Here we can listen to the tones of guitars, Celtic harp, flutes, mandolin, violin and other instruments. The songs, which have been composed since 2000, touch both the main storyline of the story and also lesser known topics as well. We can look forward to Frodo, Gollum, merry pub song, Treebeard, but also Tom Bombadil or Ent's memory of Tauremornalómë.
Thanks to Glindar's kind permission, we can release the whole content of his album on our Songs of Middle-Earth website and listen to these original songs either on its own or on Radio Middle-Earth. The songs are accompanied by beautiful illustrations by illustrators such as Andrea Piparo, Ted Nasmith, John Howe, Kip Rasmussen and of course the aforementioned Bogdan Craciun.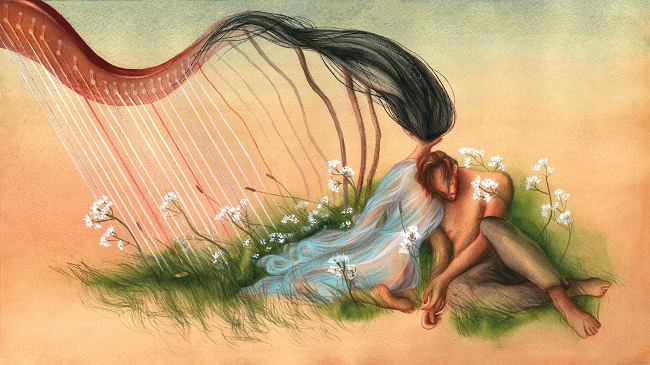 All songs are best accessible from the homepage of this website, where you can find them among the newest songs or from the list below, where they will guide us through the whole story.
All I have to do is wish you a pleasant listening!
AHO