Composed 2002 Recorded 2-11.2019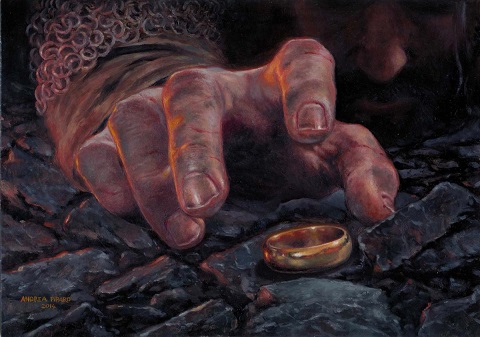 "One Ring to rule them all, One Ring to find them / One Ring to bring them all and in the darkness bind them" is the translated inscription on the magic ring that is holding Frodo in his hands. "I wish it need not have happened in my time", is Frodo's instinctive reaction when he learns the truth about the ring. Yet he takes a courageous and responsible choice even though he is fully aware that he will have to bear the dire consequences of his choice. For me it is precisely this choice that makes Frodo the hero in The Lord of the Rings and a model for us to follow. 
Illustration: Andrea Piparo, The Scourge of Isildur
The Song of the Ring
Come, all you people,
And gather all around
To hear the story of the bravest hero ever born,
Coming from the Middle-Earth where magic rings were forged.
Go, Frodo, run away!
Flee from your Hobbiton!
Nine Rings for mortal men, Seven Rings for the dwarf lords,
One Ring to rule them all and back to darkness bring them 
---
---
Author of song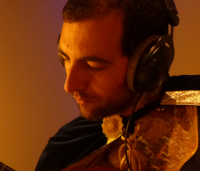 Glindar
Interprets
Glindar - voice, guitars, mandolin, percussion
Sandra Mrozowska - violin

From Echoes from Middle-Earth,
released 4th November 2019