Composed 2002 Recorded 2-11.2019
The poem told by Sam at Weathertop is about a great hero of Middle-Earth, the Elven king of Lindon who courageously fought against Sauron in the War of the Last Alliance to defend his beloved. Nostalgia for a lost glorious past and sadness for Gil-galad's tragic destiny are pervasive in this wonderful poem, written in the style of the Anglo-Saxon elegy.
The melody in my song is mainly created by the harp (explicitly mentioned in the original poem), the violin and the classic guitar whose timbre I find particularly appropriate to convey the melancholic mood of Tolkien's poem.
Illustration: Artwork by Bogdan Craciun
Gilgalad
There once lived Gilgalad mighty king
Of him many bards mourn and sing:
His Elven reign was grand they say
Beyond the mountains far away.
His blade was keen and his arm so strong,
His glimmering armour shone along;
A million stars in the battlefield
Used to shine on his mighty shield.
Long time ago he left his reign,
And where he is now I dare not say;
His brilliant star darkened was
And fell under Sauron's claws.
---
---
Author of song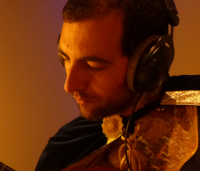 Glindar
Interprets
Glindar - voice, guitar
Floriana Moiseenco - flute
Melanie Bruniaux - celtic harp
Sandra Mrozowska - violin

From Echoes from Middle-Earth,
released 4th November 2019