Composed 2009 Recorded 2-11.2019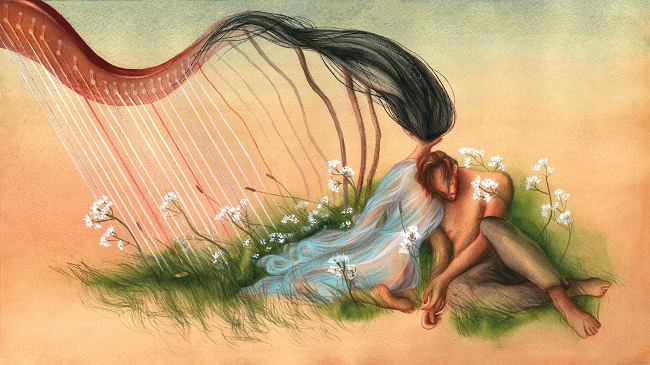 The tale of Beren and Luthien is undoubtedly one of Tolkien's favourite myths of Middle-earth, as testified by the famous inscription that he chose to have on his own grave. Reshaped several times throughout his life, the myth is basically the story of a passionate encounter between a graceful and beautiful elven princess and a courageous man, of the hardships that they endured together and of their challenging quest to take the stolen Silmaril away from Morgoth.
In The Lord of the Rings the myth is told by Aragorn in the form of a song when he is on Weathertop with Frodo and his companions. This is how I imagined Aragorn would sing it on that night. 
Illustration: Bogdan Craciun, Music to the Ears 
Song of Beren and Luthien
When trees were strong and leaves were green,
And the evening air was warm and clean,
The lovely daughter of a Queen
In a shady glade was dancing.
The harper's music spread far and wide
And heard it was by a daring wight,
Who had lost his track and without a rest
Was wandering lonely and heading west.

So Beren reached the wooded glade,
And hidden peered the Elven maid,
Enchanted him the glowing light
Of Luthien's robe and her beauty bright.
This vision though didn't last a lot
And Luthien fled as the harper stopped
So sad and desperate Beren was,
And lonely roamed at the day's close.

He kept on looking for the sound
That still was echoing in his mind,
To try and seize the distant dream
To enjoy the beauty of Tinuviel's gleam.
The gentle sigh of the falling leaves,
And the whispers of the morning breeze
Warmly welcomed the woodland's guest
And encouraged Beren to end his quest.

Then winter came the winter cold
That all the gloomy thoughts unfolds,
But Beren's strong will did not drain
Despite the snow and the lashing rain.
And then one night her robe he saw,
And felt that frost was about to thaw
Among the trees as Tinuviel danced
At a human shadow she quickly glanced.

When spring was back the harp again
Was tuned and echoed across the plain,
So Luthien's mellow light was shed
On elven boughs and flowers red.
While she was dancing a voice she heard
"Tinúviel! Tinúviel!"
And thus on Luthien a spell was laid
And to Beren's doom she was ever chained.

Their journey was so long and hard,
As sadly sung by every bard,
Across high mountains misty and cold,
And breaking waves that crashed and roared.
But faith and courage they never lost,
And then at last in a glade they met.
Long time ago they passed away
Like morning dew on a rainy day.
---
---
Author of song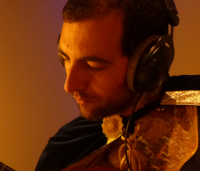 Glindar
Interprets
Glindar - voice, guitars, koshi
Melanie Bruniaux - celtic harp
Sandra Mrozowska - violin

From Echoes from Middle-Earth, 
released 4th November 2019