(Smaug the Golden of Thangorodhrim and The Mountain)
Falešné společenstvo Composed 2004 Recorded 2014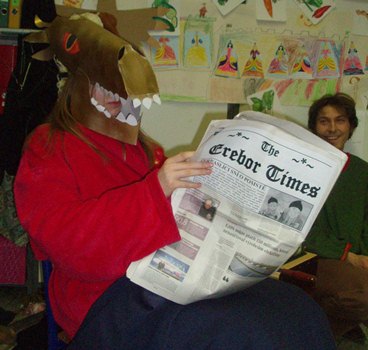 Historical background of the song
The dragon Smaug, whom we met in the Hobbit, is not exactly an likeable being. This song is offering a fresh view of his personality. Smaug introduces himself from his own subjective point of view and convinces us in his ingratiating voice that all we know about him is just slander. But notice that while strictly speaking he's not lying he's omitting important circumstances. His descent is noble – but he isn't telling us who the ruler of the world was that created him (Morgoth himself). He cares for his treasure with love – but he doesn't mention where they came from. He's manipulating us by trying to disprove no one's claims. It's solely up to us if we lend him an ear or not.
Yet in the last refrain he seems to slip and forget about his mask of respectability and shows us a little of his true desire.
Fictive author
Smaug himself, without question.
Origin and development of the song
The first version of the song:
I composed this song as a contribution to a meeting (Singing in the Karst in August 2004). Back then I have discovered the allure of the F7maj chord and it's alternation with E dur lead to and almost oriental character of the melody.
It was introduce within the "The Vices of Middle-earth" performance on TolkienCon 2006 as a song about a pathological dependence on gold and self-deception. It was interpreted by two women (me and Fallon), and really funny – the dragon was very stubborn, and while both heads were singing the same it wasn't really the same and resulted into a nice cacophony. Even though the real Smaug was a dragon with one head only, he might have been hiding some degree of schizophrenia inside.
The second version of the song:
After years we dusted the song off and reused it in the Hobbit performance at Tolkiencon 2014. In contrast to the old version it had three different voice parts and plenty of dissonances, both wanted and unwanted. In the same form, just with the change of one interpreter, it was recorded for our second CD Hobit in September 2014.
Daniela
---
---
Author of song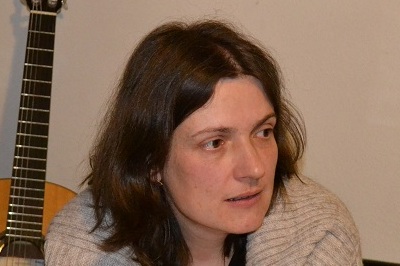 Daniela Binderová
Interprets
music and lyrics: Daniela Binderová
song cycle: Hobit
recorded: září a říjen 2014

guitar: Michal Kára (Lemming)
1st vocal: Eliška Nejedlá (Elsa)
2nd vocal: Vojtěch Domin (Bardě)
3nd vocal: Jindřich Soukup
flute: Jana Syrovátková
violoncello: Alžběta Kadlecová

vocal arrangement: Daniela Binderová
mix and mastering: Vlastimil Červenka