Kateřina Schwarzerová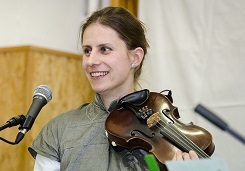 She wrote her first songs at the primary school. Since the publishing of The Lord of the Rings in 1990 her songs have been devoted mostly to the middle-earth topics.
Her first piece was the Elfí píseň (Elven Song), written some time around 1990 (she doesn´t keep the track of dates). In August of 1992 she participated in meeting of several people at Nový Hrad near Adamov (ruins of The New Castle near Adamov), who happened to be the future core members of a band called the The Poetic Fellowship. She remained with the band till the end of their official existence.
Kateřina Schwarzerová studied playing guitar and violin at primary art/music school. She also plays flute and folk harp for fun. She loves singing too. Her basic and longtime musical inspiration is Irish and Scottish folk music.
In civilian life Kateřina Schwarzerová is a cell biologist by profession.
---
Author's songs