News
12.12.2020
You can listen to most of our songs also on Spotify and iTunes.
Progress cannot be stopped even in Middle-earth. And because the classic media, and especially the drives on which it would be possible to play them, are almost things of the past and the format of Radio Middle-earth on our website no longer fully suits a wide range of all the new devices, we are adding more channels where you can listen to our songs.
The attentive visitor to the site must have noticed the new icons in the left column next to the News heading, the most important of which are the new two in green and red. These are the most common services Spotify and iTunes (or Apple music), but you can also find us on some others streaming services.
So far, we have managed to place a large part of the songs on the new channels and more will be added gradually. The main advantage is their association within individual albums and cycles, if they are part of them. Unfortunately, due to copyrights, we cannot publish some songs on these channels (especially those with original lyrics by J.R.R. Tolkien). Fortunately, it is a significant minority.
So nice listening wherever you find our Middle-earth songs!
AHO
14.02.2020
We are glad to announce songs from the new Glindar's album Echoes from Middle-Earth.
At this year's Tolkiencon 2020, we had an opportunity to listen to songs of an Italian musician, composer and tolkienist Glindar. On the Saturday's evening Glindar played a great concert and he was accompanied by Romanian illustrator Bogdan Graciun and his live painting during the performance.
The songs came from the album Echoes from Middle-Earth released at the end of 2019 containing 11 songs inspired by the Lord of the Rings trilogy. Here we can listen to the tones of guitars, Celtic harp, flutes, mandolin, violin and other instruments. The songs, which have been composed since 2000, touch both the main storyline of the story and also lesser known topics as well. We can look forward to Frodo, Gollum, merry pub song, Treebeard, but also Tom Bombadil or Ent's memory of Tauremornalómë.
Thanks to Glindar's kind permission, we can release the whole content of his album on our Songs of Middle-Earth website and listen to these original songs either on its own or on Radio Middle-Earth. The songs are accompanied by beautiful illustrations by illustrators such as Andrea Piparo, Ted Nasmith, John Howe, Kip Rasmussen and of course the aforementioned Bogdan Craciun.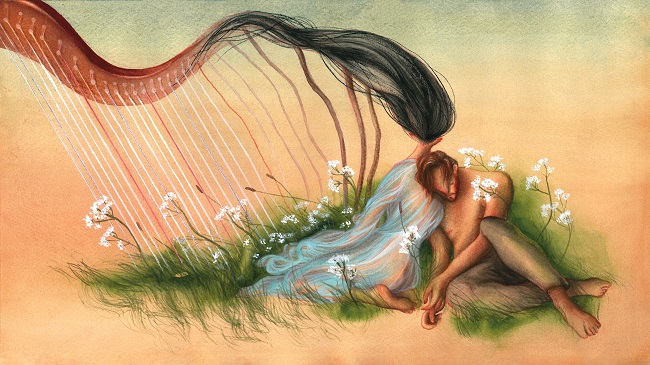 All songs are best accessible from the homepage of this website, where you can find them among the newest songs or from the list below, where they will guide us through the whole story.
All I have to do is wish you a pleasant listening!
AHO
27.07.2016
Hopefully good news for all those attending this year's Tolkiencon (as well as those abroad): False Fellowship is working hard on studio record the Beren and Lúthien cycle. As of now, first 9 songs are complete (but not released yet).
Recording is split into two parts – 1st round in spring, 2nd round in autumn. We are done with 1st one and has finished 9 songs where Fallon was not required to sing, as she is only partially available due to maternity. Next songs are due in autumn, and then the Fellowship will decide what to do with the outcome records – either to release 3rd CD, or, let them be published here. Either way, by next Tolkiencon, the cycle should be recorded and released in one form or the other.
Till we are done with it, we may release a teaser record, so stay tuned.
From first round, finished songs are: Tarn Aeluin, Interrogation by Sauron, Felagund's Battle with Sauron, Finrod's Death, Valacirca, Thuringwethil, I am flying, Hunt for the Wolf and Lament of Lúthien.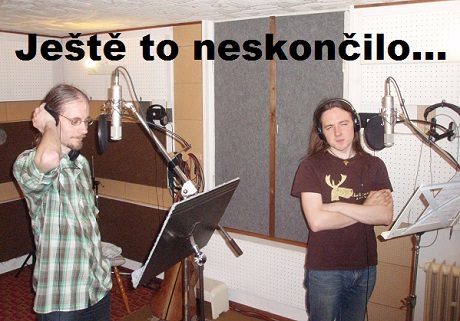 There are some changes in who sings what: Beren is sung in the studio records by Bóža instead of Nerion, and in "Hunt for the Wolf", the part of Carcharoth part is sang by Lokýt, instead of Lemming. Lokýt kindly agreed to provide his uncomparable voice, but you will hear Lemming as Carcharoth later – in his song "Carcharoth". No other changes – as Finrod and Huan you will hear Bardě, Sauron and Lúthien (in "Lament") sung by Elsa, Thorondor sung by Daniela, story-teller role in "Hunt for the Wolf" by Jana. Chorus parts are sang by all above plus Bětka, Nerion and Fallon, who joined this session momentarily. despite her maternity matters.
Wonderful guitar arranges were invented by Bardě and he has recorded them all, too. You will also hear melancholic violloncello of Bětka, agile flutes by Jixi, Lemming's cajón that gets better and better, and indeed some keyboard. But above all, you will hear and feel a joy and energy embedded in this workpiece.
Elsa / PB