Beren and Lúthien being recorded
27.07.2016
Hopefully good news for all those attending this year's Tolkiencon (as well as those abroad): False Fellowship is working hard on studio record the Beren and Lúthien cycle. As of now, first 9 songs are complete (but not released yet).
Recording is split into two parts – 1st round in spring, 2nd round in autumn. We are done with 1st one and has finished 9 songs where Fallon was not required to sing, as she is only partially available due to maternity. Next songs are due in autumn, and then the Fellowship will decide what to do with the outcome records – either to release 3rd CD, or, let them be published here. Either way, by next Tolkiencon, the cycle should be recorded and released in one form or the other.
Till we are done with it, we may release a teaser record, so stay tuned.
From first round, finished songs are: Tarn Aeluin, Interrogation by Sauron, Felagund's Battle with Sauron, Finrod's Death, Valacirca, Thuringwethil, I am flying, Hunt for the Wolf and Lament of Lúthien.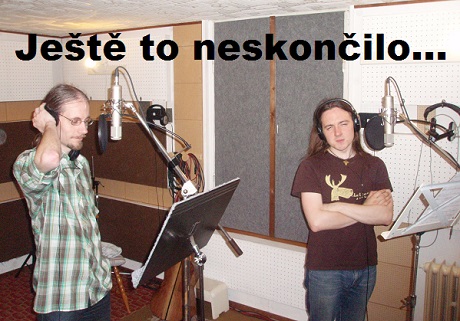 There are some changes in who sings what: Beren is sung in the studio records by Bóža instead of Nerion, and in "Hunt for the Wolf", the part of Carcharoth part is sang by Lokýt, instead of Lemming. Lokýt kindly agreed to provide his uncomparable voice, but you will hear Lemming as Carcharoth later – in his song "Carcharoth". No other changes – as Finrod and Huan you will hear Bardě, Sauron and Lúthien (in "Lament") sung by Elsa, Thorondor sung by Daniela, story-teller role in "Hunt for the Wolf" by Jana. Chorus parts are sang by all above plus Bětka, Nerion and Fallon, who joined this session momentarily. despite her maternity matters.
Wonderful guitar arranges were invented by Bardě and he has recorded them all, too. You will also hear melancholic violloncello of Bětka, agile flutes by Jixi, Lemming's cajón that gets better and better, and indeed some keyboard. But above all, you will hear and feel a joy and energy embedded in this workpiece.
Elsa / PB